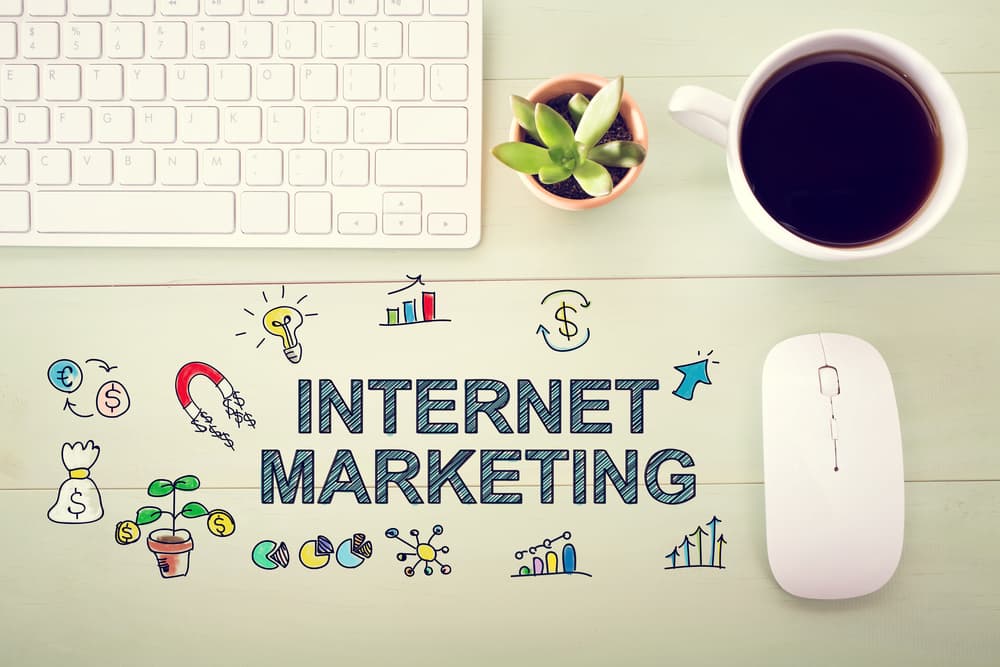 The answer to every question, the solution to every problem, and the supply to every demand, is all sought on the internet today. It is no joke that entire businesses are built upon and operate through the internet alone. Nowadays if your company doesn't have an online presence, does it even have an identity? Internet marketing is inevitable for progress and much more effective, convenient, and affordable compared to traditional marketing techniques. 
Before the internet, and when it was still a new concept, the popular forms of marketing were television, radio, newspaper, fax, telephone, and billboards. All those sources of marketing still exist, but have certain limitations. A few are very outdated, some are rather expensive, and none has as much coverage as the internet. You may consider television and billboard as winning strategies, although the audience they address is very small, and you pay a ton for it. 
The internet is universal, which means what you put out there can reach every corner of the earth. Moreover, it can literally be used to advertise anything unlike conventional marketing that has several barriers, reservations, or legal restrictions. How much you invest into internet marketing depends on a number of factors such as the scale of your business, target audience, the nature of your product or service. Many small startups like restaurants, dry cleaners etc. that are limited to function within a single town or city, may not have to spend a penny.
Over 4 billion people use the internet on a daily basis, so that's exactly how many people you can get in touch with when you market your thing online. Many routinely activities throughout the day are carried out via internet; for example work, communication, shopping, ordering food, doing research, and so on. Internet is highly dependable because it saves a lot of time and awkwardness, which comes along with getting a job done manually or in person.
Internet marketing is a resource rich platform for selling anything, and can be divided into 3 basic categories:
Social Media Marketing

Content Marketing

Email Marketing
Social Media Marketing
Social media is an important part of our lives and its power cannot be underestimated. Anything that hits a social media platform like Facebook, Twitter, YouTube or Instagram gets viral within a matter of minutes and there's nothing stopping it. Social media is the perfect place to make a statement, get famous and advertise your product. The audience is internationally huge and the possibilities are endless. 
The most common strategy is to make a Facebook page of your brand or company. Small to medium businesses that do not wish to invest in an official webpage can use this Facebook page as an alternative. Setting up and running a Facebook page is child's play, as opposed to a personal website (and it's FREE!). You can promote your page by posting links on timelines of people you know, on other web pages and social media platforms.
If you wish for better and faster results, opt for paid Facebook advertising. It is cheap and great for customized promotion of your product or service. You select your daily budget and target audience, and then Facebook takes care of the rest. Facebook will place ads or suggest your page several times a day on the homepage of users that match your specifications. You can filter audience based on location, age, gender, interests etc.
The key is to get a maximum number of likes on your page. People who have liked your page will remain engaged in the future, as your posts will frequently appear on their home page. This will increase the likelihood of them becoming a client or regular customer. When your Facebook page has under 1000 likes, it is still in the initial stages so it must remain as active as possible. You shall at least upload one post per day and make it genuinely appealing for your targeted audience.
Suppose you are selling women garments, you can begin by offering handsome discounts on a few items, and free delivery for all. Once you have built a good reputation, your customers will continue to buy from you after the promotions are taken down; they are bound to recommend you to friends and family as well. 
No matter what you are trying to sell, visuals are very helpful for convincing a potential client to make a purchase. Therefore, high quality pictures and short videos accompanied by text will further enhance the customer experience. If a public figure or celebrity agrees to support your product on social media, a slight mention on their part can move mountains. 
Content Marketing
Let's say you inaugurated a law firm and put together a topnotch website to give it an online presence, so now what? A website is great and everything, but how will potential clients actually find it? Whom do you immediately refer to when you need to look up a place or service? Yes, the answer is the one and only 'Google'. There are a couple of other competitive search engines as well, but we will use Google because it is hands on the best of the bunch.
When people will search for lawyer services in their area, they will enter keywords like "top law firm," "divorce attorney", "criminal lawyers" etc. It is your job to make sure that your web page appears in their searches. You can consider yourself lucky if your website comes up on the first page of results, because almost no one checks out the second page. In addition, the top three results are the websites that are most likely to be visited. Now the question is how to place your website in the top spots?
Here's where we talk about SEO (Search Engine Optimization) score that determines the rank of your page and the probability that it will ever see the light of day. Obtaining a high SEO score takes a lot of time, hard work, and patience. In order to achieve that, your website will need a large quantity of high quality content that includes a fair percentage of all the commonly searched keywords. Google is very particular about the content you share on your website. It does not tolerate offenses such as plagiarism, grammatical errors, spelling mistakes, and irrelevant use of keywords.
It's a tough goal to impress Google and before you give up, I'll let you know that there's a shortcut. When you search for something on Google, there are a few sponsored pages at the top before you get to the organic results. Some people skip to the organic results, but many go for the sponsored ones due to their placement. These are the paid ads on Google, i.e. you can ask the search engine to place your website link on the first page in exchange for some money. 
Other ways to increase your SEO score is by guest posting on different blog websites and getting back-links from various trusted sources on the World Wide Web. 
Email Marketing
Email marketing is one of the less popular forms of Internet Marketing, though that does not mean it is not a competitive platform. Surprisingly, research proves that you are more likely to get a subscriber or client via email, as opposed to social media and Google marketing. One might argue that the majority of millennial's and baby boomers are only accustomed to social media or chat apps, but that is only partially true. 
Email marketing is definitely better for a mature audience, which includes the employed force who composes and receives mails as part of their daily duties. It is an obligation for their job and a reliable platform for exchanging sensitive business information. These people have money to spend and will take the time to read your email if it seems beneficial in the slightest way. Again, the goal is to know your target audience and design your emails accordingly.
Here are a few tips for creating engaging email content:
Address your recipient personally and maintain a friendly tone.

Keep your emails short and fun to read

Add visuals and lead magnets (click bait)

Offer to subscribe, and easy opt out from your mailing list

Only send a few emails per week to avoid ending up in the spam folder