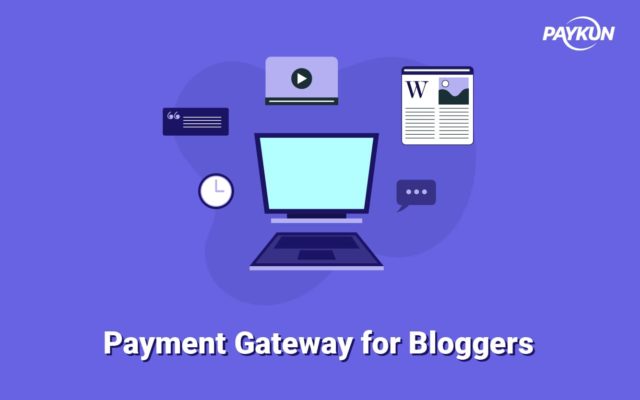 Blogging is the profession for many these days, it can be in the form of freelancing for the other or they may be having their own blogging website too or both simultaneously. As a blogger, you may need to receive the money for various reasons and from different types of parties too. It can be for the different types of advertisement that you are promoting on your blog website, your affiliates, allowing the Ad Networks like Google Adsense, the sponsored guest post blogs to promote other brands, your clients for which you write, etc.

It's amazing how you can sell your words and also earn a lot of money through your blogging platform and that too globally. It is but obvious that you would require a payment medium to collect the payments and also that you are able to track and manage them in an efficient manner.

The Best Payment Gateway Option for Indian Bloggers – PayKun
An efficient and logical way of doing this is through India's top online payment gateway, PayKun, the reason is simple; you can provide your clients with so many options and secure passage to make the payments. Let me give a few examples to explain this well to you, that how a reliable payment gateway can be useful for the Bloggers.

Taking one situation where along with the blogging, you are selling your products also. If the blog is about travelling – you may be selling may be the travel packages or travel books written by you, if it is health blogging – you may sell some health products or the fitness and health-related books, for food blogging – the recipe books or food products can be sold, etc. So, for this online selling, you may provide a PayKun payment checkout to your customers (readers). Psychologically, their trust in buying things would increase with a reputed and popular payment gateway on your website and also it will give a safe option to make the payment.

Another situation is, taking the payments from your advertisement clients or affiliates. For them, you may provide an embedded Payment Button, on your website itself. Or, accept the payments through the PayKun payment links or Master Links.

How is PayKun Secured?
It is a PCI DSS Level 1 compliant. In simple words, it follows the highest level of security required for the payment gateways or in that case any place where the sensitive and confidential information like the Card Number, CVV, Passwords, etc card information are to be entered.

Also, it follows 256 Bit AES standards, which means the sensitive data is passed in an encrypted manner which is impossible to hack by the despicable fraudsters.

It is SSL certified, by this I mean to say that the connection between the browser and the server (related to the website) is completely secured and non-hackable.

What are the Multiple Payment Options?
PayKun provides 120+ payment option at one place with one checkout. Including debit cards and credit cards (Master Card, Visa, AMEX, Diners Club, RuPay), wallets, UPI/BHIM, NetBanking, QR code, etc.

What do I mean by tracking and managing your payments well?
With the registration and the activation of the PayKun Merchant Account, you get your Merchant Dashboard activated. Wherein, you are able to analyse the transactions through graphical representations in the form of customised time period, according to the payment methods ratio of its usage, etc. this can help you plan your business and know if how is it performing.

Also, the payment records with its status, customers data, creating payment links and their management, refund management, settlement status and data, different settings, etc. All in all, it can be a useful management tool for you.

What is the process for adding a checkout or a payment button on the website?
This process is called as integration in the technical terms. However, you do not require any technical expertise in doing this with PayKun.

According to the platform of your website, there are ready to use plugins and SDKs which are very easy to integrate. PayKun supports all the major platforms, PHP, Magento, Android, iOS, WordPress, Ruby, Python, .Net, Node JS, Java, etc. You may also get free technical help for this from PayKun Support Team.

Putting up a ready to pay payment link can be another way of how you can receive payments through the PayKun payment buttons.

What if you are a blogger but doing freelancing work?
In any situation, you may accept payments through the payment links and you do not require a website for that.

Payment links and Master links are to be copied from the Merchant dashboard, pasted and sent through any possible medium like Messenger, Email, Whatsapp, etc. This way you will get your payment directly in your bank account when your client makes the payment through it.

What does PayKun get?
PayKun is the best payment gateway and the cheapest at the same time. Unlike other gateways, it does not charge any kind of extra fees like SetUp charge, Integration Fees, Maintenance fees and guaranteed no hidden fees.

There is a nominal lowest per transaction charge of flat 1.75 % per transaction.

PayKun is popular among the bloggers, it also provides the highest successful transaction rate and the speedy registration process through fast on-boarding facilities.